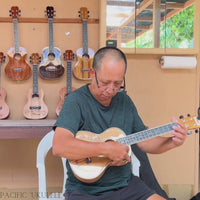 The spalted maple tenor is a uniquely beautiful instrument, with a distinct character of its own. The vibrant and balanced tone is the result of an alternating pattern of black marble and light spots on the grain, which make this gem stand out from all other 'ukuleles. This 'ukulele is elegant and unique in a way that only spalted maple wood can achieve. Featuring a longer neck, body, and increased lower bout size, the sound will reach a full, deep pitch notes flawlessly.

The spalted maple tenor 'ukulele has a laminated finish, 19 fret bars, is 26" in length. Best played by right-handed people.

Case is included with each instrument.
Body Material - Spotted Maple

Neck Material - Mahogany

Fretboard Material - Rosewood

Bridge Material - Rosewood

Sandle and Nut Material - Oxbone

String Material Type - Aquila Super Nylgut®

After each use regularly clean the 'ukulele with a microfiber cloth. Keep it dry and away from humidity and use a case when traveling.
Clean strings with a microfiber cloth, or soft cotton cloth after each session. Once strings are worn down, replace with new strings. New strings need to be loosened by carefully stretching them out. Read more
Standard delivery usually takes around 4 business days. Please note that 'ukuleles are shipped from Hawai'i and shipping time begins once carrier pick up the package.
Note: Customized products may take longer to arrive, as each instrument requires individual laser engraving.
We offer a full refund when the product has not been opened and/or is unused within 30 days of receiving it.
'Ukuleles that have been customized are not eligible for refunds.
Any returns must be in the original packaging with proof of purchase. Read more